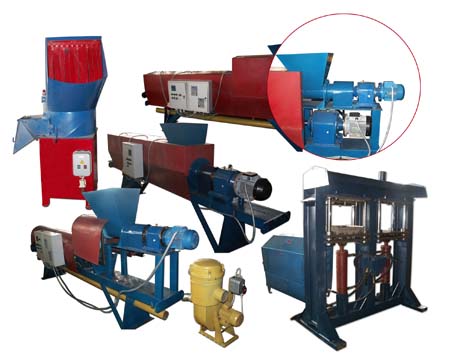 Technical Features of Equipment
Our company is ready to offer to supply complete lines of production of a wide range of polymer-sand products, such as:
- paving and garden tiles, and curbs;
- decorative fences, flower beds borders, compost pits and tree trunk protectors;
- roof tiles and connectors;
- Facing for facades and basements;
- drainage troughs;
- manholes and accessories for manholes;
- other polymer-sand products.
The proposed equipment is the result of our experience working with polymer-sand technology, in which we applied a number of unique technical solutions that will ensure high quality and reliability of both the equipment and products manufactured with it.
The equipment can be used even with moist sand with no decrease in the quality the product.
The melt-heating units are equipped with 3 independent heating zones with automatic temperature control, which allows for temperature programming.
The design of the extruder used auger modernized design, which allows for a quicker and more complete ejecting of the finished polymer-sand mixture.
Use of compaction units modified specially for the polymer-sand technology and equipped with upgraded hydraulics and control station.
We offer a mold made of constructional alloy steels which are thermally hardened and equipped with a cooling system. Molds can reach up to 5 million uses before repair.
Organization of Production
The organization of production requires four basic components:
Extruder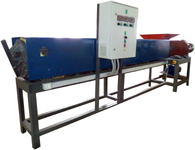 Designed for mixing and heating of polymer-sand composite components - sand, polymer, pigment, and for consistency testing. Depending on the performance modification, the extruder can reach up to 1000 kg / hour.
Press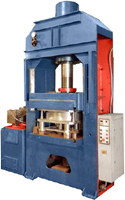 100 tons of force and different desktop sizes. The resulting mass in the extruder is put into a mold mounted on the desktop press. Forming an article occurs under pressure while cooling the mold, which can significantly increase productivity. The finished product is removed from the mold by the lower pusher and is immediately ready for storage on pallets without a setting period, unlike cement products.
Molds

Mounted on the molding press and can produce the following products: tile, facing, terrace, paving, tactile tiles, curbs, gutters, sewers, manholes, covers, etc. Depending on the product, the mold can be of different sizes - single or multiple products, made with the mold of thermally hardened quality alloyed steels, the molds provide an effective cooling system that makes them highly durable - up to 5 million uses, in combination with high productivity.
Radial Crusher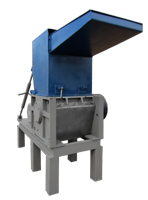 Chops plastic. The purpose of the crusher is to prepare the polymer component by crushing into uniform pieces for future use. The offered crushers are versatile because they can process both hard and soft film materials, agglomeration is not required. Productivity varies depending on the intensity of the crusher, as well as the type of materials crushed, such as cans, bottles, or other waste polymers.